Groupsets And Bottom Bracket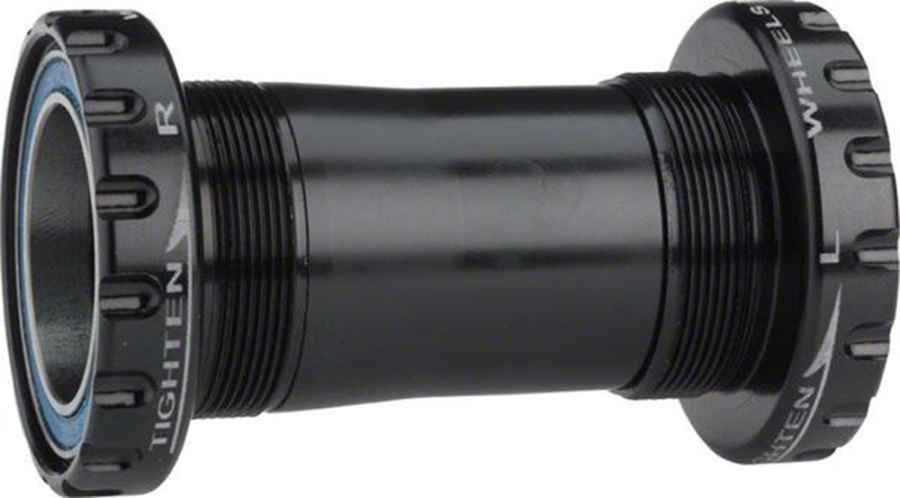 What Size Bottom Bracket Do I Need
Tuesday, 31 October 2017

0

710

0
For those who are looking to upgrade the cranks on your mountain bike, or just need a replacement bottom bracket, it's very important to make sure you get the correct bottom bracket for the job. With so many "standard" sizes available, it may seem overly complicated and that's why we are here to help! The two major dimensions that differentiate bottom brackets of similar types are the shell width and spindle diameter. Hopefully we can help clarify some of the more common bottom bracket sizes so that upgrading your cranks can be a simpler process.

Because there are so many different bottom bracket variations, we think it is very important to always match the manufacturer of the cranks and bottom bracket to ensure the proper fit.
BB30 vs PF30
These are both BB shell types and designed for cranks with a 30mm spindle, however you can use either of these shell types with a 24mm spindle with the use of an adapter if you wanted to.

With BB30, the bearings press directly into the frame with only a small removable clip behind them to keep them in place. BB30 bottom brackets are far

more common on road bikes and are designed around being very light. A PF30 bottom bracket holds the bearings inside of a nylon or metal shell that is then pressed into the frame as a unit. This is fairly common among mountain bikes (especially Specialized) but getting less common as BB92 is becoming more and more popular for various reasons, potential creaking noises and cost of manufacturing to name a couple.


BB92
BB92 is a shell type that is quite common on high end mountain bikes of many brands. Also sometimes referred to as Shimano press fit or pressfit GXP, this BB uses a bearing housed in a nylon or metal shell that when pressed into the shell measures 92mm wide. This standard was originally designed by Shimano utilizing a 24mm spindle, then Sram came along to make the same thing also intending use of a 24mm spindle which they like to call their GXP spindle (Not to be confused with their BB30 spindle which is 30mm in diameter). More recently, companies like Raceface and E.13 have designed a system that uses a 30mm crank spindle and a BB92 bottom bracket. The reason some brands like RaceFace and E.13 designed a 30mm spindle crank and BB to work in a BB92 is because the 30mm spindle is stiffer, stronger and lighter but a big number of high end mountain bikes use BB92. So to get that awesome 30mm spindle in a BB92 shell type they had to design a pretty thin bearing, but it works great and we've never seen any type of failure in those bearings or cranks from either brand in the 4+ years the products have been available.






English Threaded 68/73mm

This is the oldest/longest standing BB shell type we know of. It was far more common before carbon was so popular but still very relevant. Tons of bikes use this from road to mountain and even some BMX race frames. A threaded shell housing the bearings threads directly into the frame where the bearings remain external. The major benefit to using a threaded bottom bracket is how much more secure the fitment is compared to a press fit system that is more likely to creek. It's also easier to work on as a home mechanic as you only need a special wrench to remove/install it. No need for an expensive and complex bearing press tool that you would need with any type of press-fit BB. Funny things have happened around this design - back in the day the bearings sat inside the shell, remember square taper BB's? Those still used a 68/73 English shell. But then came outboard bearings; same shell but now everything was designed differently to allow for bigger bearings and better weight distribution making things stiffer and stronger. Then many manufactures realized why use the threaded cups at all and in came PF92, BB30, PF and the others. But just now in the last year or so many people are demanding the old 68/73 English shell back because it's easier to work on and also seems to make less noise. By noise I mean creaking - press fit BB's are kind of notorious for creaking. This is more common in areas where you ride in mud and rain often. But when a press fit BB is creaking you need a rack of tools, knowledge and time to take them off, re-lube and re-install. But with a 68/73, it is a much less intensive operation to take it out, clean and lube it. But that whole topic is controversial depending on who you ask. Either way, some frame manufactures are responding to this and doing away with press-fit BB's all together and others are holding their ground and keeping press-fit to save weight and cost. Our own opinion on this is that press-fit works great when two things happen:

1) Its a high end bike made very well. If the tolerances are sub-par because it's a budget $2k complete mountain bike or something like that, it'll likely have issues.

2) Everything is installed perfectly with the proper tools by someone who truly knows what they are doing.

This is a delicate process that is easy to mess up and many home mechanics are out there slamming in the BB's with a mallet and then complaining they creak and thinking it is the fault of the design. That kind of behavior warrants a great term...face palm.

The 68mm and 73mm dimension measure the width of the bottom bracket on the frame of the bike with no BB installed, simply the width of the shell. Most road bikes that use a threaded bottom bracket measure 68mm wide and most cross country/trail mountain bikes measure 73mm. Multiple spacers are included in order to fit both sizes meaning if you see a BB for sale that says 68/73 it means it will fit both but it includes a couple spacers in the box to make it fit the 68, those spacers (or fewer of them) are not needed if the shell is 73mm wide.
English Threaded 83mm
The 83mm English threaded bottom bracket uses the same design as the 68/73mm system but measures 83mm wide. This is most usually seen on downhill mountain bikes in order to maintain the most efficient chainline.
Different Specialty Bottom Brackets
A lot of road bikes and fat bikes use specialty sizes. For example, some fat-bikes from Surly utilize a 121mm and 131mm shell width. The 386/392 Evo standard is similar to the PF30 standard but uses a wider shell with the bearings inside a set of cups. For road bikes, the 386/392 Evo use a 86.5mm wide shell. These are all the more reason to make sure you are getting the correct brand and size when purchasing the correct bottom bracket. If you aren't confident you're buying the right size BB for your bike, please ask us. We deal with this stuff all day every day and are happy to help ensure you get the right stuff for your bike.
Spindle Size
The majority of crank spindles come in either a 24mm or 30mm diameter. Below are some of the most popular brands and sizes.

Raceface: 30mm (They also make some cranks with 24mm spindle, cheaper ones and older ones mostly)

Sram BB30: 30mm

Sram GXP: 24mm (Note this tappers to a 22mm on one side so don't try mixing brands for BB and cranks)

Shimano: 24mm

Ethirteen: 30mm

All in all, after reading this you've got some proof that bottom brackets are a confusing topic. If you've found your answer here, awesome! Go get yourself some fresh new bike parts. If you've still got questions, please don't hesitate to contact us. We can help you figure out your BB size, spindle size, what cranks fit your bike, etc. We eat, sleep and breathe bicycles so rest assured, we'll figure it out :)