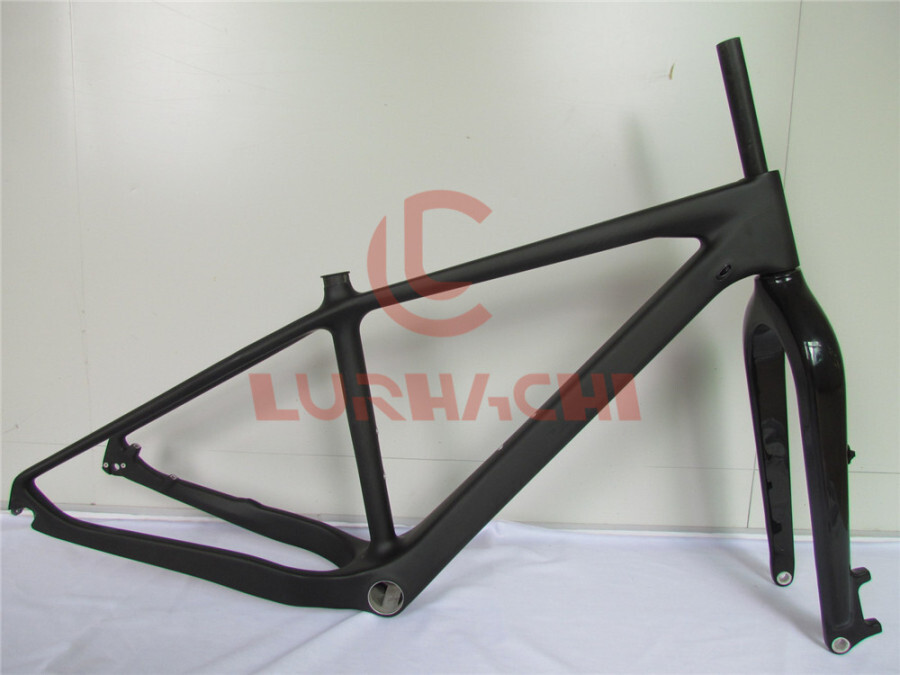 What Are The Key Fat Bike Features To Look For?
Wednesday, 13 December 2017

0

643

0
While Fat Bikes Have Been Commercially Available For The Last Ten Years, Designs Have Evolved Most Rapidly In The Past Few Years As The Popularity Of Winter Capable Bikes Has Grown. In Fact, The Changes Have Been So Quick That A Fat Bike From Just A Few Years Ago May Be Considered Limited Or Obsolete By Today's Standards. The Good News Is That The Rate Of Change In The World Of Fat Bikes Has Slowed To The Point Where A Bike You Get Today Will Very Likely Still Be Relevant In The Future. These More Recent Changes Are Significant In That Fat Bikes Today Offer More Performance And Versatility Than Ever Before. It Is Thus Good To Be Aware Of Key Fat Bike Features To Make Sure You Get A Bike That Is Future Proof And Works As Well As Possible. Important Key Fat Bike Features To Consider When Selecting A Fat Bike Include Tire Width Capacity, Frame Geometry, Drivetrain, Use And Weight.
Fat Bike Axle Spacing And Tire Width


If you're riding
in snow or soft sand you will appreciate having the widest tires possible (4.8-5″) for maximum float and traction and thus one of the key Fat Bike features to look for is wheel dropout spacing that allows for wider Fat Bike tires. In order to use tires over 4″, your new Fat Bike should likely have 190-197mm spacing between the rear dropouts and 150mm between the front fork dropouts. This spacing is becoming pretty standard on current year Fat Bikes, but many older models (available on the second-hand market or leftover in shops) won't have that spacing and the bike will often be limited to tires 4″ wide or narrower.
Suspension Ready Fat Bike Frame Geometry


Big wide tires and low pressure means a lot of rubber on the ground and a lot of traction and that equals a lot of fun regardless of whether there is snow or not; many current Fat Bike designs are placing greater emphasis on performance and year round versatility in their frame design. Today, bikes like the
Fatback Skookum
offer frame angles and dimensions that provide handling characteristics not unlike your warm weather trail bike. When combined with a suspension fork, a Fat Bike with progressive geometry can handle quite well in summer as well as winter. If you are looking at a Fat Bike with a rigid fork, one of the key Fat Bike features to focus could be to make sure the frame's geometry is "suspension ready" and ready to add a suspension fork at a later time. This requires that the stock rigid fork have a longer span (axle to crown), like a suspension fork, than it may otherwise. As a reference, the very popular Rock Shox Bluto has a span of 491mm in its lowest travel setting (80mm); taking sag into account at 20% of travel, a rigid fork should thus have a span starting around
470mm.
Fat Bike Plus Size Tire Compatibility


While It Currently Requires That We Build A Pair Of Plus Capable Rims Onto A Fat Bike Hubset As There Are Not Many Prebuilt Plus Size Wheels With Fat Bike Hubs, It Is Pretty Cool That Some Of The More Versatile Fat Bike Frames Can Easily Be Converted From A 26″ Wheel Fat Bike In The Winter To A 27.5+ Bike That Accepts 2.8″-3″ Tires For The Rest Of The Year By Simply Changing Wheels. If You Buy The Right Fat Bike, You Can Have A Year Round Off-Road Machine That Does Everything Pretty Well And Thus Seeking A Bike Designed For Four Seasons Could Be One Of The Key Fat Bike Features For You To Focus Some Attention.
Fat Bike Use & Drivetrain Type
One key Fat Bike feature to be aware of is how you are going to use your Fat Bike. If you are going to use your Fat Bike as a winter training machine or you want a potential year-round capable ride, prioritize things like suspension and wheel compatibility and weight. On the other hand, if you are looking for a way to get deep into the woods with tools or equipment or to haul things around town, focus on designs that offer rack and trailer compatibility that will support how you are using the bike.
When it comes to gearing, there are internal gearing equipped Fat Bikes as well as the more common standard external gearing options and electric assist Fat Bikes. Internal vs. external gearing goes beyond the scope of this article, but I will say that if you haven't tried an electric assist Fat Bike like .
Electric assist allows you to ride in snow conditions, ascend hills and pull loads that are difficult to impossible without it. Also, there is something about going almost two times as fast for the same amount of effort that is rather addictive (see video). For these reasons, electric assist could be one of the key Fat Bike features for you to focus…
Internal, external, electric or even single speed gearing,
just be sure to select a frame that accommodates the gearing type you want and your use. It is also good to realize that some Fat Bikes are more performance oriented while others are more utilitarian based (think sports car vs. pick-up truck). If you want a quick and fun bike for training and romps in the woods and fields, get a bike designed for that. If you want a bike ready to take you on multi-day camping/hunting/fishing adventures, make sure it has the mounts and design that will support that use best and again, consider electric assist.
Fat Bike Weight – How Much Does It Matter?
Unless you have the benefits of electric assist pedaling, weight can be a key Fat Bike feature that makes quite a difference. Why? Well, when you are travelling at lower speeds you don't have the same benefits of momentum to help you get up hills and traction can be at a premium on slick frozen surfaces and in softer or deeper snow conditions. The difference between how a 28 pound Fat Bike feels compared to a 34 pound Fat Bike is marked, to the point of almost feeling like two different activities in some situations.
Early Fat Bikes were designed as expedition machines and burliness and utility took priority over light weight. However, advances in design, materials, and component choices have made it possible to build a Fat Bike with a weight similar to many trail bikes. While there are very cool titanium Fat Bike options
and some bomb-proof utilitarian steel bikes
too, the most common frame materials used in production Fat Bikes are aluminum and carbon fiber. There can be a couple pounds of frame weight difference between the better carbon frame Fat Bikes starting above $3500 (like the Fatback Skookum or the even lighter Skookum FLT) and entry level priced aluminum bikes like the $1300 Felt DD70. This being said, focus more on the quality of the material and the design attributes of the frame more than the material itself as high-grade aluminum combined with lightweight design (like found the Fatback Rhino FLT) can bring the weight of an aluminum frame equipped Fat Bike down to a level that competes well with many a carbon bike.
In addition to the frame, as with most bikes, wheel choice has a huge affect on the weight and performance of a Fat Bike. In fact, because of their size, wheels and tires can contribute a significant amount to the weight of the bike on a Fat Bike. However, this means that there is significant opportunity to shave a lot of weight in the wheels and tires on most Fat Bikes. By choosing the right wheel and tire combination, your bike can lose pounds of weight where it matters most – in rotational mass. Fat Bike tubes weigh close to a pound each and thus making sure your Fat Bike wheels are capable of converting to tubeless is an easy way to make sure you can lose a lot of weight with nothing more than a tire conversion (it is good to note that getting tubeless to "stick" with some Fat Bike rims may best be left to an experienced shop as it can be frustrating). Otherwise, better quality aluminum Fat Bike rims and hubs can save over a pound and a half over entry level wheel while high quality carbon rim wheels can shave another half pound still. Tire weights can fluctuate by up to a pound each based upon construction and width as well. Unless your wattage would be best measured on a dyno, four pounds of wheel weight is a lot no matter how you look at it.
The bottom line is that a Fat Bike is the sum of its parts (like any other bike) and if you start with a particularly heavy frame and fork you are going to have a hard time ever having a lithe Fat Bike. Wheels also remain an excellent place to save weight and increase performance on a Fat Bike followed by the rest of the components.
Fat Bike Sizing
While there is definitely more "wiggle room" on a Fat Bike than you would ever want to have on a well suited road bike, you still need to make sure you get on a bike model that is a solid fit for your riding position and needs. Fat Bikes have tall tires and thus stand over height can sometimes be at a premium if you are not vertically gifted. Because of the expense in molds, with only a few exceptions, carbon framed Fat Bikes are available in 3-4 sizes with many models not offering a size that is well suited to many people below about 5'4″. This being said, some high quality aluminum framed Fat Bikes offer more sizing options and would be a better decision for some riders looking for a lightweight Fat Bike than an ill fit carbon model. We're here to help explore what will fit you well and what size and model makes the most sense for you in regards to fit variables
Key Fat Bike Features: Having A Great Time On A Fat Bike
While money doesn't always buy happiness, it is important to realize that when it comes to Fat Bikes, like most things in life, you get what you pay for. Getting key Fat Bike features like wider tire capability, lighter weight, suspension compatibility and a bike that is the right size will always be more fun than one that is compromised. Whether you are getting an entry level Fat Bike to get started on or a fully decked out four season capable performer, make sure that what you get will do what you want and will make riding as enjoyable as possible for you. There are a lot of good options available and we're here to help explore what makes the most sense for you, so don't hesitate
This article is from
http://fitwerx.com/thinking-about-a-fat-bike/